Commercial Foam Roofing in Southern California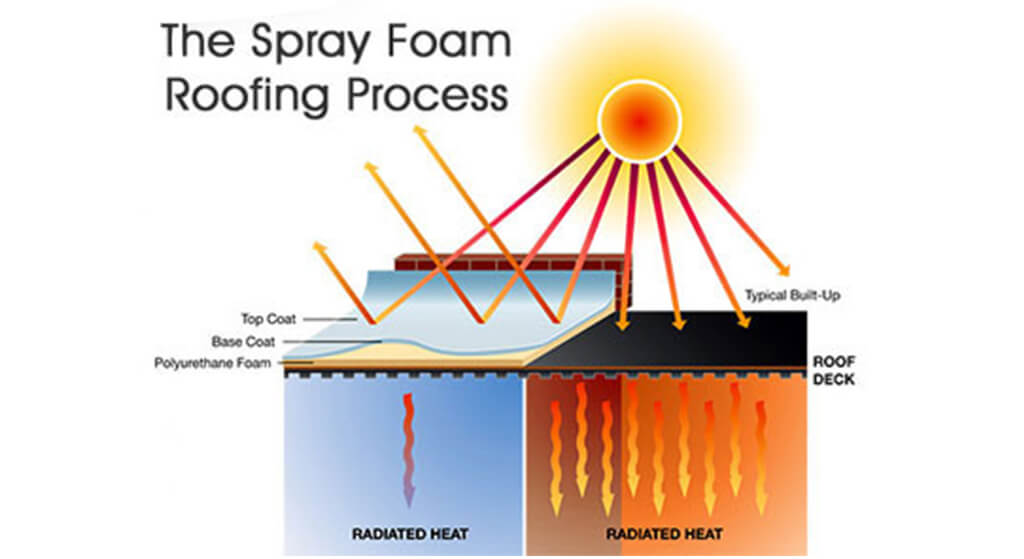 Your current asphalt roof system has more direct contact with sunlight and rain than any other part of your property.
HEAT IS THE NUMBER 1 CAUSE OF ROOF FAILURE. Traditional seamed asphalt roof systems reflect on average 8% of the sun's UV rays.
What this means to you as the owner is that your current roof is absorbing on average 88%-98% of the sun's heat. The dramatic expansion and contraction associated with this absorption is what destroys the roofing systems.
Our two types of foam roofing systems are
Spray applied polyurethane foam roofing
The two systems are fluid applied, making them resistant to potential energy-wasting leakage. Both surfaces are reflective, making them better insulators, and therefore more energy efficient and cost effective than asphalt, the traditional material used in industrial roofing.
Our Spray Applied Polyurethane Foam Systems provide an astonishing 84%-96% roof reflective rate with an inherent roof insulation value ranging from R-6.4 to R-30, lowering inside temperatures up to 10-25 degrees Fahrenheit. The result is not only lower utility bills but also vastly reduced expansion and contraction of the roof system. For this reason we are able to provide a maintenance-free roofing system with a 12-20 leak free warranty.
All of our Spray Applied Polyurethane Foam Roofing Systems are completely fluid applied. This method produces no laps, seams, joints, or fasteners, all of which are conduits for leaks and therefore allow energy out and water in.
Related Blog: Foam Roofing: The Perfect Way to Increase Your Home Longevity
Applied Roofing Services has thrived for over a decade, and our management and applicators bring several decades of experience in the roofing industry. We know how to install our roofs in an efficient and non intrusive manner, but more importantly we genuinely care about the well being of our clients and their satisfaction with our final product.
Our roofing systems are both efficient and financially beneficial. They are 100% tax deductible in the first year as a maintenance or repair deduction, while traditional asphalt systems are required to be capitalized deduction.
If you are having any questions related to foam roofing, or you want to understand the benefits of foam roofing in detail, contact us right now! We would be happy to answer your questions.
Contact Us