Silicone Roofing in Southern California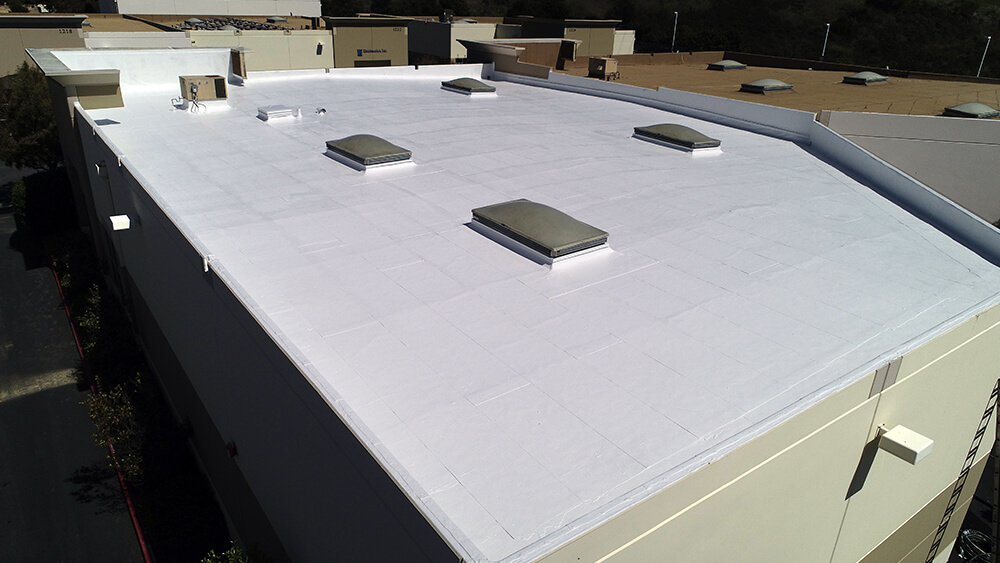 Our silicone roof coating restoration system is seamless, energy-efficient and remains unaffected by extreme temperature changes which increase your roof's life expectancy. Silicone roof coating material is durable, flexible and completely UV stable. Silicone roofing is an ideal roofing choice that provides maximum long-term protection from all types of weather and atmospheric conditions.
The Silicone roof coating system is a trusted, efficient and economical solution that can be used over different substrates like BUR, metal, EPDM, modified bitumen roofs, TPO and PVC. Some can even be applied without a primer coating. Apart from roof restoration, silicone roof coating can also be used as a coating agent on SPF roofing.
The Silicone roof coating systems are supported by world-class technical support and offer warranties of 10-15-or 20-years. This roof coating system is made up of 100% silicone which helps to prevent leaks much more efficiently than any other coating materials. This is due to its superior solids content, reflectivity and ability to expand and contract with the building/roofs movements. Without becoming brittle such as asphalt & acrylic type systems. The silicone coating reflects the sun's rays which can lower inside temperatures 10-25 degrees depending on application. They also can be expensed 100% in the first year as a repair vs. re-roofing.
Advantages of Silicone Roofing:
Unaffected by ponding of water.
Affordable, cost-effective and durable.
It offers great energy savings as compared to other roof coating materials.
The Silicone Coating systems offer excellent color retention and reflectivity with a silicone polymer that's UV stable. Exceeds all Title 24 & CRRC requirements.
As it's made up of 100% silicone component, it's fully compatible with chemicals and adhesives. This Eliminating water leakage, wood rotting and metal rusting.
Retains flexibility throughout different seasons retaining superior elongation, just after installation and even after decades of exposure.
No harmful fumes.
In most cases Silicone can be applied over your existing roof no need for the cost and mess of tearing off existing membrane.
We install top Silicone coating manufacturers such as: Gaco Western, GE, General Coatings, and Carlisle. Silicone Coating Systems help in extending the life expectancy of your roof by delaying the need for costly repairs or replacement. Silicone roof coating systems also provide exceptional and long-term performance that can add decades to your roof's life.
Call us at (714) 632-8418 to restore your roof with efficient and affordable silicone roofing!