Christmas is a time when many homeowners go crazy trying to decorate their roofs, lawns, and patios. Whether you're trying to outdo the neighbors or not, you probably still want to put something up to show your holiday spirit.
While putting decorations on your roof really isn't that difficult, there are some basic safety tips you can use to make sure you don't take a spill this season. After all, there might be ice, snow, or even rain on the roof.
Read on to learn more about some safe Christmas roof decoration ideas.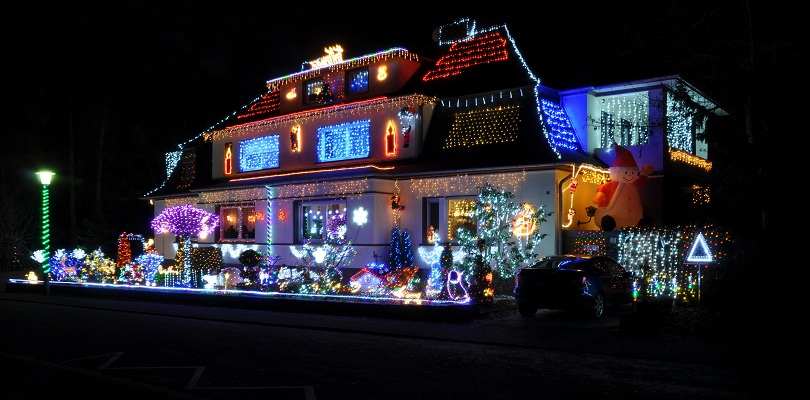 Decorate Your Roof Without Damaging It
Installing a holiday decoration on your existing rooftop can be taxing, but at the same time, it will be an extremely rewarding experience to look up and catch the sight of Santa and his reindeer or a waving snowman. Be very careful with your rooftop decoration because some extra measures and caution such as the ones given here will guarantee you a sound and more beautiful roof this holiday season.
Ensure to use wires to protect the decorations and keep them from overturning and leading to damage which could require a roofing repair professional.

Instead of attempting to carry the decoration pieces up the ladder along with you, lift it up using a rope after you are safely positioned on the roof yourself to avoid roof damage.

Use safe eye bolts and review the functioning of all wires thoroughly to ensure your Christmas display remains sturdy and secure on your roof through probable strong winds and heavy rain.

Decorative lights, when suspended from their shingles, can attract moisture and other elements. It is advisable to install the Christmas lights up using clips attached to the gutters.

Do not rush in to remove the decorations from your rooftop so as to avoid ripping them down and in turn cause damage to the gutters and shingles. Try to remove each clip patiently by holding decorations, separately because patience now will prevent repair costs later on.
If you are not confident about how to decorate your roof without damaging it then hire a professional Christmas decoration installation provider to make sure your roof does not get damaged during the installation of Christmas lights and displays.
You can relax and enjoy the reward of your hard work, once you have placed your lights and displays over and along your roof.
Christmas Decoration Safety Tips
Prior to installing Christmas decorations on your roof, go through these safety tips to ensure you get the decorating efficiently done without hurting yourself or causing any damage to your roof.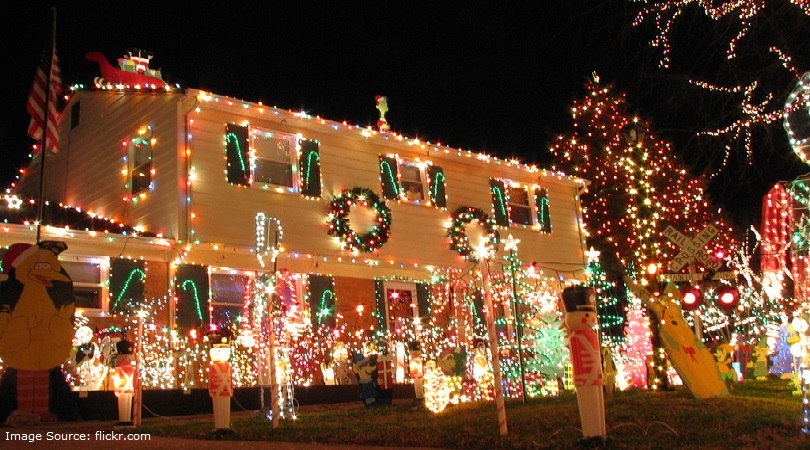 Select the correct ladder for climbing up to your rooftop for your roof decoration job and also wear an appropriate outfit, including footwear to avoid any mishap.

Inspect your roof ahead of decoration job to rule out any type of damage including loose or broken tiles, unfastened shingles, or torn roofing material. Also, make sure the roof is clean of debris and signs of ice-damming.

Plan ahead before you get on the roof to ensure having proper tools & supplies handy during roof decoration.

Ensure to have a dependable assistant on the ground to provide guidance on the decorations as well as to watch over you.

Use only quality electrical equipment in case of your rooftop decorations, if you don't want any sort of electrical problem or a fire hazards due to a cheap item.

Make sure to move cautiously while installing bulky decorations on your rooftop as they pose a huge challenge for installation.

Never nail or staple lights for fastening to your roof but string them instead using plastic clips, fixed to your shingles or gutters.
Unsafe Christmas Decorations for Roofs
Any inflatables or figures like Santas and reindeers are prone to be blown away by strong winds from the rooftop if they are inappropriately set.

Mounting these seasonal figures can over-burden your roof so consider your roof's load-bearing capacity beforehand.

Avoid nails and staples that can puncture the wires of your lights, or cause damage to their insulating cover, increasing the chances of electrical problems.

Ensure to use the expert recommended gutter clips, because the excessive weight of the gutter can tear them down.

Christmas lights can be amazing and fun, but be cautious not to overburden your circuits to avoid fire hazards.
Holiday Lights and Decorations Tips for Your Roof
Here a few tips for holiday lights and decorations for your roof:
If you're a beginner with Christmas light decorations on the roof, restrict your light decorations to eaves, gables, and the border of the roof catering to the main spots.

Make sure to only use lights intended for outdoor use. A sturdy ladder to climb up the roof, appropriate tools for placing light decorations on your roof, and a steady helper, are some essential prerequisites for effective roof decoration.

Test light strings and substitute any burned-out lights prior to decorating the rooftop. Damaged lights will consume power from the whole light string, and the remaining bulbs will turn dimmer.

Avoid conventional nails, staples, screws for mounting your display. Make use of electrical tape and clips because they are a quick and easy alternative for protecting electrical connections and preventing overburdening of your roof.
You can relax and enjoy the reward of your hard work, once you have placed your lights and displays over and along your roof. If you want more extensive light display arrangement on your roof, hire a professional lighting company.

Tips for Safe Holiday Roof Decoration
Ensure that your lights for Christmas roof decorations 200/m are working and designed to withstand extreme weather conditions. Don't use high-voltage bulbs (7V or higher) as they may start a fire. To ensure safety while setting up Christmas lights, use a ladder that's stable and tall enough for you to hang your decorations at roof height. Avoid climbing wet roofs, especially when it's raining or snowing.
Roofs Decoration Tips
Poking holes in your roof tiles to hang lights may cause leaks and serious damage requiring an expensive repair. To protect your roofing, don't hang your lights using the wrong fasteners, such as:
Nails
Screws
Tacks
Staples
Don't step onto your roofing either as shingles are very fragile.
How Do You Hang Christmas Lights on Top of a Roof?
Be sure to have an assistant and follow these steps:
1. Take all the necessary measurements, such as the distance from the power outlet, to determine the required number and length of wire strands. 2. Test your lights to ensure they're working. Make sure to unplug the power cords. 3. Add clips to a single strand of wire. 4. Climb a sturdy ladder and start attaching the clips to the gutter or under the shingles. 5. Repeat steps 3 and 4 until you've covered all intended roof sections.
How Do I Secure My Roof Decorations for Christmas?
Use insulated hooks or clips designed for fastening Christmas roof decorations 100/m. You may utilize a bungee cord to attach your vintage plastic light-ups to the roof. Avoid decorations that are too heavy on your shingles.
How Do You Hang Christmas Lights Without Damaging Your Roof?
Rather than using staples and nails, use plastic clips to install your outdoor Christmas roof decorations 40/m or parrot clips for stucco homes. Also, avoid walking on shingles unless absolutely necessary.
How Do You Put Lights on Shingles?
Shingle tabs: Place each C9 or C7 bulb into its appropriate tab hole and slide each tab under a shingle.
All-in-one clips: Use these to hold each bulb securely. You may fasten each clip on the gutter or under a roof shingle.
How Do You Hang Lights on a Steep Roof?
You may use a tall step ladder or extension ladder to install your Christmas decorations for roof 30/m. Ensure that the ladder extends beyond the roofline.
How to Put Inflatable Christmas Decorations on the Roof?
Sandbags: Place your inflatable Santa or any other fairy tale character on the roof and hold it down with sandbags.
Rope/cord: Use ropes to tether the bottom of the inflatable to the gutter at each corner of your house.
With the above tips, you should be able to safely install your Christmas roof decorations 200/m without damaging your roofing shingles.
Are you looking for a reputable commercial roofing contractor in Orange County or Los Angeles? Contact Applied Roofing Services or give us a call at 714-632-8418 to get a quote.